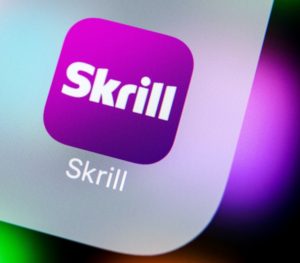 Skrill, like Paypal or Neteller, was created at the time of the explosion of e-commerce in 2001. At the start, the company was called MoneyBookers, and it wanted to make money transfers easier and faster. , both for individuals and businesses, whether to buy and sell online, transfer money to a friend or recover the winnings from our online games.
The ease of use and the ability to have a Mastercard credit card did the rest, and Skrill has grown quite unbelievably, and it just doesn't seem to stop. Now, we can pay via Skrill in more than 35 million stores and withdraw our money from all partner bank distributors of Mastercard.
SENDING MONEY TO AN EMAIL ADDRESS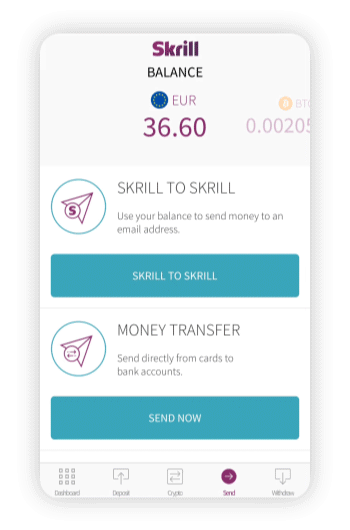 1-   Log in and go to 'Send'.
2-  Choose the Skrill To Skrill option to send to an email.
3-  Enter your recipient's email address.
4-  Select a currency.
5-  Enter the amount you are sending.
6-  Write a message for your recipient if you wish.
7-  Confirm the amount and send.
Today, Skrill allows us to manage our money and trade in 40 currencies. You can open an account in over 200 countries and tens of millions of users have already taken the plunge. On the strength of its success, Skrill bought the leader in prepaid cards in 2013: Paysafecard, then Ukash in 2014. In short, Skrill is a giant in online payment, which remains relatively unknown in France.
Skrill services
Skrill works like Paypal for an individual. We will be able to receive money, make deposits, then use our account to pay on merchant sites using this payment method.
It is ultimately a wallet for managing your online transactions, while protecting your bank details. No need to use your real bank account and leave your details on all the sites you visit. At Skrill, only one email address and password allows you to receive or send money.
Transfers are very quick whether you send or receive money. It's almost instant from one Skrill account to another, and it only takes 48 hours to transfer to your bank account in most countries. It is also a very quick way to receive your winnings money for sports betting or other online games.
Security and reliability
Thanks to Skrill, you never reveal your bank details to e-commerce sellers. There is therefore no risk of being hacked into our main account. For the money kept in our Skrill account, it is protected by a very secure system, which has not experienced any problems in the past 18 years.
https://www.youtube.com/watch?v=cE_AxiDqT54
In addition, unlike traditional banks, Skrill keeps clients' money in single accounts. The company is not allowed to play in the stock market with users' money, which all traditional banking establishments do. This is why you can, without notice and in a matter of seconds, withdraw all the money from your Skrill account.
Opening a Skrill account
Registration is simple, free, and only takes a few minutes of your time. You are first asked for a valid email address, and a password that will need to be confirmed. They will be your credentials to access your account.
You will then be asked for some personal information, your first and last name, date of birth, country of residence or the currency that you will use most often. Choose carefully since a fee will be applied to each currency change. You will need to give a full address and telephone number. It only remains to validate the conditions of use of the site.
Then we go to step two which is to verify our Skrill account. To do this, we start by validating the email address by clicking on the link to a message sent to us in our mailbox. Then, you will need to validate the account by sending a photo of an identity document and proof of address.
Finally, you can link a bank account and a bank card to make your first deposits to your Skrill account. You can then configure the payment or withdrawal limits as you wish, whether cumulative or per transaction, in order to properly manage your cash outflows.
Skrill card and fees
After opening your account, you can choose to receive a prepaid Mastercard payment card. It costs only € 10 shipping and is valid for one year. It allows you to pay in shops, or online, and of course to withdraw cash from authorized Mastercard distributors.
Its use online or in a store is completely free. However, a fee of € 1.80 is imposed on each withdrawal. It is expensive for those who generally withdraw in France, but for those who often withdraw outside the euro zone it is much more expensive than the usual bank charges. It also remains quite low compared to the competition. Withdrawing with a Neteller card costs almost twice as much.
Sending money to another Skrill address will cost you 1.45% of the transfer amount. There is no way to send free money to a friend or loved one, which is a bit of a shame. The costs however remain rather low.
Finally, exchange fees amount to 1.99%, we are in the low average, which is good news. We can trade our currencies without losing too much money.
Customer service
The Skrill site provides a forum to ask any questions you want or to find answers to topics that have already been covered. All in all we find everything we want. In the event that all of our questions are not clarified, we will be able to communicate by email or by telephone with a contact person. By email, the response time is generally less than 24 hours. Obviously things go faster by phone and the advisers are very professional. The response time to have someone online is always less than 5 minutes, which is pretty good.
The advantages of Skrill
_  Skrill is a reliable  and perfectly secure payment service.
_  Bank details are never communicated.
_  Transactions are very fast, whether it is to send or receive money.
_  The fees are low.
_  A prepaid card allows us to use our funds immediately, both online and in physical shops, restaurants, hotels, etc.
_  English law provides us with almost total anonymity.
_  The use is pleasant, the site as the smartphone applications are very simple to use.
_  Responsive customer service.
The disadvantages of Skrill
_ Fees for withdrawing from ATMs.
_ Fee for transfer to another Skrill account.
_ Deposit only by bank transfer or credit card.
Our opinion on Skrill
In place for almost 20 years, Skrill has nothing more to prove, but continues its evolution towards more simplicity. We can store, receive or send money easily, and use our money both online and in physical stores thanks to the prepaid Mastercard.
It is an English company which provides us with some anonymity, while ensuring flawless security and protection of our banking data. Usage is generally free, and the fees for sending money, ATM withdrawals or currency exchange are not high.
Using the Skrill site or applications is very simple, from creation to use of the account. Customer service is present and responsive, with professional advisers who always respond quickly to our questions. Skrill is really simplicity in its raw state! A portfolio that allows us to manage our money easily, at low cost, anywhere on the planet. The success of this online payment giant is clearly not stolen.
Click to rate this post!
 5/5